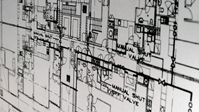 Before you start building or excavating, you must ensure that you will not impact on Sydney Water assets by going through a 2-step process.
Step 1: Submit your plans through Sydney Water's Tap-In System
You must submit your building plans and/or your excavation plans via Sydney Water's Tap-In system. Sydney Water has streamlined an online portal that will allow you to submit your proposed development work based on your plans. Once you have processed your application and paid Sydney Water's small service fee, Tap-In will review the information that you have entered and issue you with an approval or referral.
The system checks if there will be an impact on any Sydney Water assets, including pipes, structures and easements. If there is no impact you will receive an approval from the Tap-In which is provided in a letter format.
Step 2: Engage a Water Servicing Coordinator
If Tap-In identifies an impact, or a possible impact because the works are close to or over Sydney Water assets, you will be referred to a Water Servicing Coordinator.
As a Water Servicing Coordinator, RAR will work with all related parties to determine the impact and provide you with the requirements you will need to meet before your application can be finalised and submitted to Sydney Water.
Examples of this type of work include:
Coordinate to show the relevant Sydney Water sewer on the plans and determine Zone of Influence;
Complete the Requirements form;
Carry out any required inspections; and
Submit a complete Package to Sydney Water Corporation for approval.
Choosing your Water Servicing Coordinator
It is important you choose an organisation that is experienced in the process for approving Building plans with Sydney Water - preferably one that has a team of experts on hand to assist and that also has been Quality Certified for their processes. Here's the 3 Critical Questions you need to ask to choose your Water Servicing Coordinator.
To find out more about how Rose Atkins Rimmer can help get your Building Plans stamped and approved efficiently and cost-effectively, please contact us by phone, email or by completing our webform.